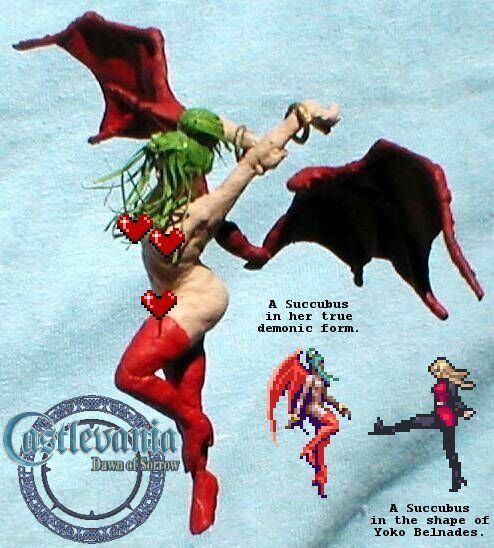 | | |
| --- | --- |
| Custom #: | 38327 |
| Name: | Succubus |
| Custom Type: | Miniature / Figurine |
| Toy Series: | Castlevania |
| Creator: | Patraw |
| Date Added: | April 13, 2012 |
| Base Figure: | Sculpted from scratch |
| Height: | 2.30 inches |
| Completion Time: | 10.00 hours |
This is a figurine of a Succubus enemy from Konami's Nintendo DS video game "Castlevania: Dawn of Sorrow". As far as meeting the criteria of this challenge goes, Castlevania Succubi have the ability to change their shape to look like any human female that they want, although it's usually someone close to the victim's heart (mother, wife, lover, daughter, friend, etc.) They masquerade in a form familiar to the target so that he or she will drop their guard, leaving them wide open to a surprise attack. In Dawn of Sorrow, the Succubi enemies will often pretend to be Yoko Belnades, a good witch employed by the Church and one of Soma Cruz's trusted allies (in the Gameboy Advance prequel, Castlevania: Aria of Sorrow, Succubi disguised themselves as Soma's childhood friend, Mina Hakuba, instead.) Nothing will seem amiss until you casually walk up to one of these false Yokos, expecting a cut scene conversation, only to get savagely kicked in the junk instead! If you retaliate (and who wouldn't?), the Succubus will literally drop out of her clothes, and keep on going, right down through the floor, after which she'll then immediately reappear out of thin air, in her true demonic shape, and attack. Succubi dash in to get close, wrap their arms around you in a sultry embrace, and then lock lips, steadily draining away your life energy until you manage to wriggle free by mashing the control pad and buttons. Given their unearthly beauty and complete lack of modesty, it goes without saying that most males are reluctant to escape a Succubus' clutches, even as they die in her arms.

This Succubus figurine was completely sculpted/fabricated by hand, over a period of four days, and finished with acrylic paints.