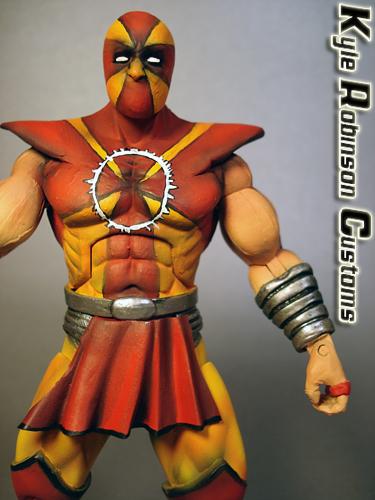 Kyle's Starstorm, D.O.B. 08/29/07
This is an original character by my pal Fast Freddy at Toy Soup. He has a whole grip of Soupers tackle various original characters he made, and this was mine, STARSTORM!. I see why he picked me for this one, it was right up my alley. It was fun making this custom for a guy who could easily make all his characters himself, he too is a great customizer and the fact that he is having all his characters really shows his passion for the hobby and collection. This custom is also my very first fully airbrushed shaded figure. Ironically enough, the person who inspired me to airbrush was fast Freddy himself, and if it wasn't for him I wouldn't own my newest sweetest tool. THANKS FREDDY and I hope you love your new custom.

RECIPE:
~WWE Base Body
~All detail was fully sculpted
~sculpted head
~loin cloth from ML sentry cape
~Fully airbrushed detailing.
~flames from Movie torch.