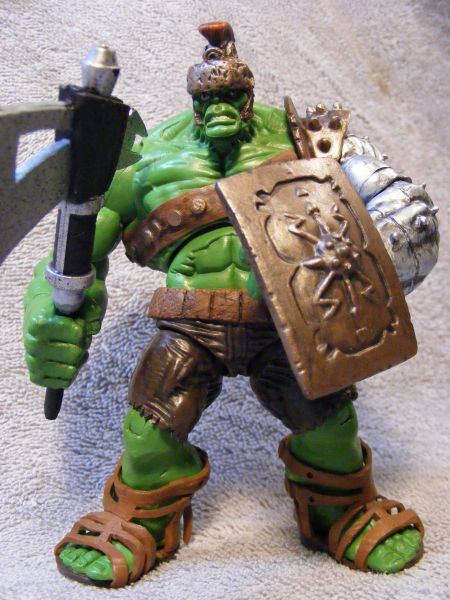 ..... Marvel Universe: World War HULK .........

Once again, I had beaten Hasbro to the punch. Made this guy about 2 years before Hasbro did an awesome job bringing out theirs and I just thought I'd share some "older" work.. =)

So, this WW Hulk was made from the first released Universe Hulk. Cut the hair off the top of his head and sculpted on the helmet, sculpted belt. The mow-hawk , shoulder armor and shield are from the Superheros Squad Planet Hulk. The bandolier was a strip of plastic with thin cut plastic discs glued on to it. The sandals were made from Star Wars Foul Moudam Jedi figure's boots ,( same character as Moftak ), that I meticulously cut strips out of. The left arm was sanded, then I cut strips around his arm into the plastic with exacto knife then glued on some plastic spikes. Finished with a coat of silver paint. The pant legs were cut using an exacto knife....shew, that was a lot....LOL!!