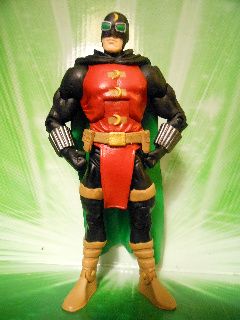 Always wondered why Mattel never made a variant of their DCUC Doctor Mid-Nite, probably would've helped make him less of a pegwarmer. But I can't complain since I've used him multiple times now for customs.

Modern Doctor Mid-Nite consists of his own torso, lower legs from OMAC, arms from Owlman, and XMC Magneto's tunic fitted to Doc's belt. The head is the original with some sculpt to make the cowl cover his nose. Also sculpted on the thigh straps.

Lot of different pieces, nothing super complicated, but I'm happy with how he looks.