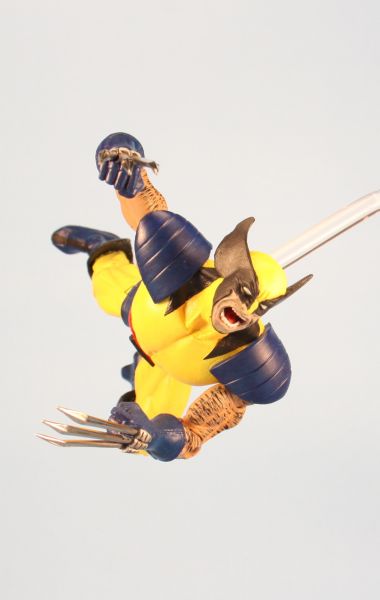 I used a select sculpt batman from DC Universe Series 3 for the bulkiness. I sculpted his chest and shoulder/neck area (batman's was made to hold a rubber cape in place). Figure comes with 2 heads one from an original marvel legends Wolverine Figure, the other a brand new sculpt from PackRatStudios, a BERSERKER RAGE Wolverine! STEEL CLAWS using needles Jin Recomended! If your out there looking, Thanks Man!!!

Figure also comes with base and flight stand...errr...getting thrown stand and or jumping stand. The base is sorta got that Danger Room Fell and I like it. The base can be used with or with out the flight stand.

The stripes on the custom are all cut from vinyl and glued in place, gives the figure a real cool vibe.

Tons more pics on my blog, GOOGLE ME and Follow...as well as on my Facebook, FACEBOOK ME and like me!

Let me know what you think!