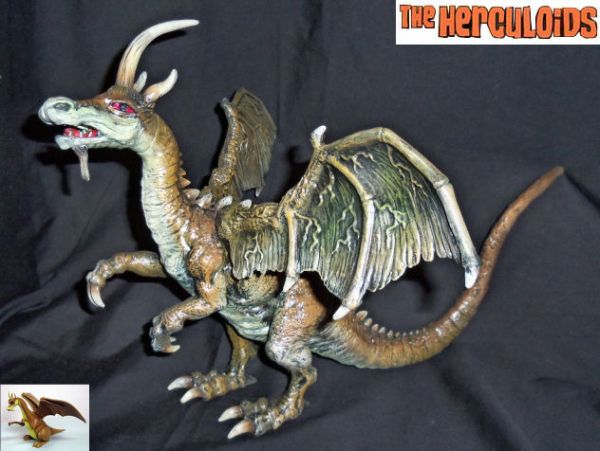 ZOK THE SPACE DRAGON!

Found a cheap dragon at K*B Toys(rest in peace) several years ago and thought with a little modding it would make a great ZOK custom from the Herculoids, since I didn't purchace the animated looking one that was out in the boxed sets(I wish I had've anyways!)
RECIPE: I cut off one finger from each hand and one toe from each foot to get it to match the cartoon ZOK's digits. I sculpted some to blend that all in. I cut off the big ears it hand and dremeled up the face. I resculpted the entire face to make it look more like ZOK, adding the long horn in the center of his head and a sculpted beard. The only other sculpt was over some wire to extend his tail some. Primered and painted it with Tamiya and given a sealant coat.
He stands 11" inches tall. The wingspand is 16" inches wide and he is 17" long. I originally planned on this being Legend scale but it just didn't look right. Now with Marvel Universe out, it will fit in perfect with those. I plan on making a custom 3.75" inch King Zandor to go with him in the near future.

This custom was finished in the latter part of 2007. It has never been posted on a website until now.