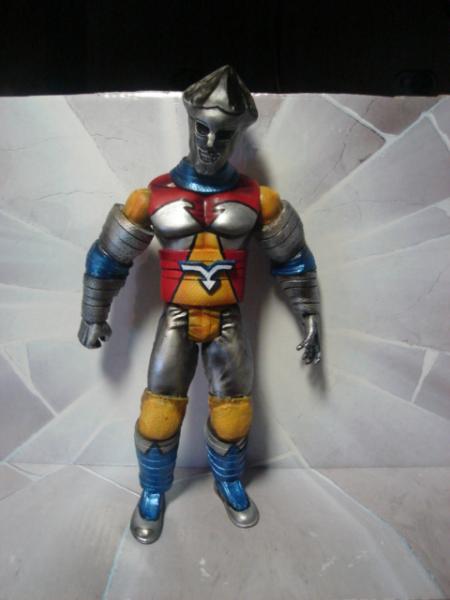 | | |
| --- | --- |
| Custom #: | 4032 |
| Name: | Jet Jaguar |
| Custom Type: | Action Figure |
| Toy Series: | Godzilla |
| Creator: | fastfreddie |
| Date Added: | September 12, 2007 |
| Base Figure: | WWE wrestler |
| Height: | 7.00 inches |
Jet Jaguar was a human-sized robot created by inventor Goro Ibuki. Having been stolen by the underground nation of Seatopia, Jet Jaguar's mission was to guide Megalon to Tokyo so the insect kaiju could destroy it. Eventually, however, Goro regained control of Jet Jaguar and sent him to fetch Godzilla from Monster Island. As Godzilla made his way to Japan, Jet Jaguar flew back to the mainland and faced Megalon. Increasing his size to fifty meters, Jet Jaguar attacked Megalon and was winning the battle until the cyborg Gigan arrived to provide Megalon some back-up. The two evil beasts were too much for Jet Jaguar, who was beaten senseless until Godzilla arrived. After a long fight, Godzilla and Jet Jaguar were able to defeat their foes, sending Megalon back to Seatopia and Gigan back into outer space. After the fight, Jet Jaguar reverted to his normal size, and returned to his home with Goro.Jet Jaguar displays his thanks to Godzilla by flashing a unique brand of sign language and hand signals to him. The film concludes with a jaunty theme song extoling the virtues of Jet Jaguar. Jet Jaguar was the result of a contest Toho had in mid-to-late 1972 for fans to come up with a new hero for them to use (to capitalize on the many tokusatsu and anime superhero and super robot shows that were all the rage at the time). The winner of the contest submitted the drawing of a robot called Red Arone. The robot resembled both Ultraman and Mazinger Z (both of which were very popular at the time). The robot was renamed "Jet Jaguar" and was set to star in a film vehicle for him, titled Jet Jaguar Vs. Megalon, which pitted him against Megalon (a previously unused Godzilla monster design). However, Toho figured Jet Jaguar would not be able to carry the film on his own, in screen appearance or marketing value (which was a big thing with Toho), so during pre-production, even after doing some tests and storyboards, the project was shut down for several weeks, until screenwriter Shinichi Sekizawa was called in to rewrite the script to add Godzilla and Gigan to have more marquee value. The resulting film, Godzilla vs. Megalon, paired Godzilla with Jet Jaguar against both Megalon and Gigan

INGREDIENTS...used the wrestler as a base figure, sculpted the head, added vinyl for the arms and legs and painted it up. this figure didn't turn out as good as I would've liked but, I love jet jaguar and giant robots like shogun warriors and this contest gave me a reason to do a custom of one of my favorite robots that actually got me into liking giant robots back in 1976 when I first saw the GODZILLA vs MEGALON movie on tv for the first time.