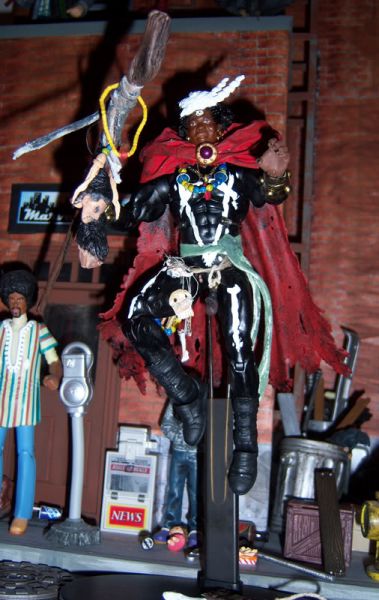 The figure has a ton of odds and ends thrown on, some attached with twine or thread. I wanted him to have a similar look that had had in his comic, with lots of beads, bones and skulls everywhere. I like his messy hair look from his "final" story in New Avengers, so I left a lot of his dreads sticking out all over the place. I like the idea of a mixed media figure so I used cloth for the cape, sash and wrapped around the top of his staff.

Head: wrestling figure (I don't know who it was)
body: another wrestling guy
hair: Slash from Guitar Hero and Booker T figure
staff: Claude from Heroes with a re-sculpted top
cape: Wrarrl from the Conan 2pack
shrunken heads: Han Solo and Mutt Williams 3 3/4" figures with sculpted hair
all the other odds and ends were taken from various other figures.