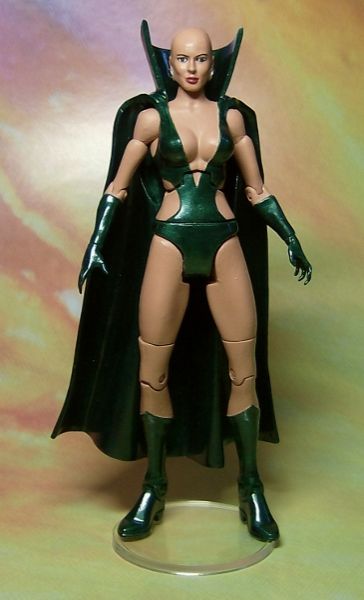 Recipe:
DC Universe Classics Cheetah body
Marvel Legends Maria Hill head
DC Universe Classics Mr. Miracle cape
Small jewelry rings for earrings
Apoxie Sculpt

Here's my attempt at a classic Moondragon. I used a DC Universe Cheetah body as the base. I really like this base figure. I think the way the chest is sculpted is perfect for a character showing a lot of cleavage, like Moondragon. The head is from a Marvel Legends Maria Hill, with the top sanded down and smoothed out with Apoxie Sculpt. The earrings are just little necklace rings. The cape is from a DC Universe Mr. Miracle, which I had to trim down to fit properly on the smaller female body. The edges of her costume were sculpted with Apoxie Sculpt.