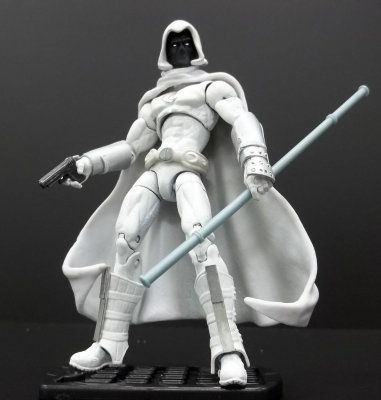 Not at all happy with the available Moon Knight figure, I took a Steve Rogers figure and added a casting of the Black Panter's head (ears sanded off) and the hood from a 25th Zartan to make this custom.
His arm bracers are from a ROC Storm Shadow and his leg bracers are the ones from the Rogers fig but with some sheet styrene added to make metal guards at the front.
His chest emblem is a custom waterslide decal I made on a laser printer.
The gun is from Rogers and the belt and cape from the Moon Knight carded fig- staff is from Gambit.
Paint is Krylon Fusion white and black acrylc for his mask- if making this custom yourself, use the FF Spidey as a base- same body but in white plastic to save painting!

I've included a comparison shot to show the huge improvment, though obviously the scale of Marvel Universe figs is creeping up some. It also shows how dingy the carded figure is- I had not noticed that before taking pics!
Overall a very easy custom to make Moon Knight shine.

As always, Questions and comments are welcomed!