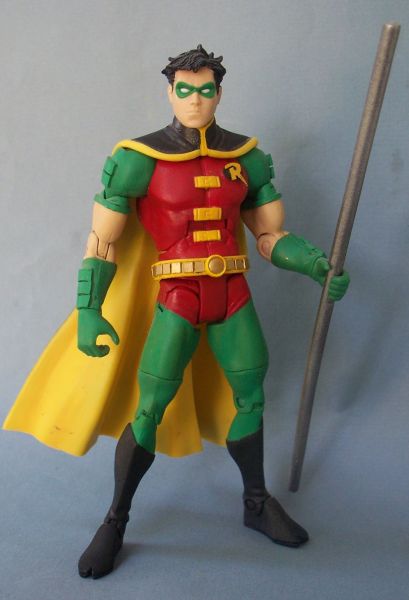 Another blast from the past. Yesterday I was browsing my submissions and noticed I left a few out, so here's another. This is actually the fourth version I've done of Tim in this gear, but I think I only have the first submitted, and the other two were commissions, so I don't have them to even snap pics of.

So, Mattel gave us a TD Robin in his original gear, but it was lacking a few details. I added some pouches to his sleeves and gloves, as well as detailed the sleeves on his biceps. Made a new "R" out of some vinyl, swapped out the pouch belt. The one I used was Sinestro's with the buckle from Robin's. I then cut tiny pieces of styrene out to make the compartments and painted them gold to match the center of the buckle. This time around I left the original tunic clasps because I like they way they look and the 4Horsemen did a nice job sculpting those details into them. Lastly, I gave him the proper sloped boots to mimic his tabi boots.

Thanks again for looking and see you next time.