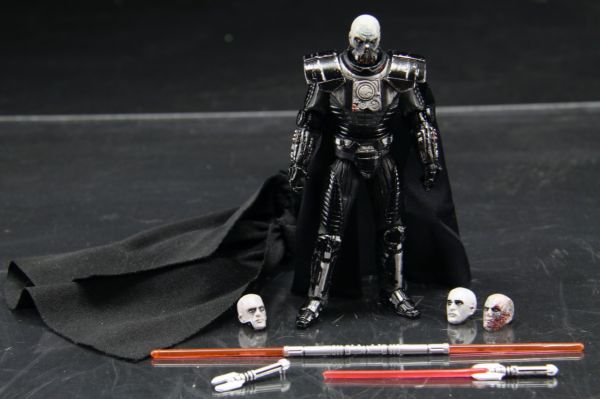 I took Darth Malgus and made him how Hasbro Should have made him. The original figure looked rediculous, and needed a repaint, but also, something needed to be done with that crappy hip articulation Hasbro put on that figure.

I ripped his legs off and used some ROC Cobra Trooper legs as a base (for the articulation). I shaved them down and attached them to the Malgus legs, and completely re-sculpted them. Figure still regains swivel in the waist, but now has better hip articulation.

I also added articulation to the hands, by using the swivel hands in one of the recent Gi Joe Snake Eyes figures, gives Malgus the ability to now POINT his saber. Gives him much more mobility and awesome poses!

FULL REPAINT (he needed it) If you are not familiar with what the original figure looks like, please google image search for it, and see how terrible the figure looked.

I also included a double bladed lightsaber like what he uses in the Old Republic Trailer, and I also Added 3 extra Portraits! One, severely battle damaged!