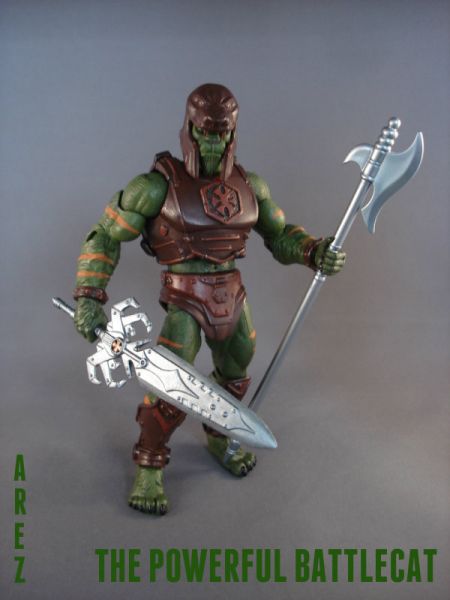 MOTUC THE POWERFUL BATTLE CAT

-"THE POWERFUL BATTLE CAT" has become a very important member of The Masters and with the use of the Electric Power Sword he can be as powerful as He-Man. When He-Man goes to battle the Evil WArriors, Battle Cat sometimes stays behind to protect Eternia. The Evil Warriors fear his mighty roar…

*This concept was created with the intention of participating in Matty's create a character for the 30th Anniversary, but I didn't agree with Matty's terms and conditions for the contest. Instead I enter him on the MOTU contest at The Figure Realm.

**The back story sounds cheesy, but hey if T.Guru does it why not me...lol!!!

RECIPE:
-MOTUC Chief Carnivous's base & head.
-MOTUC Beast Man's left had.
-MOTUC He-Ro's loincloth.
-MOTUC Palace Guard's chest armor & ax/spear.
-MOTUC Weapons Pack's Electric Power Sword.
-MOTU 2002 He-Man's harness symbol.
-DCD God of War Hercules' helmet.

Thanks for looking!!!