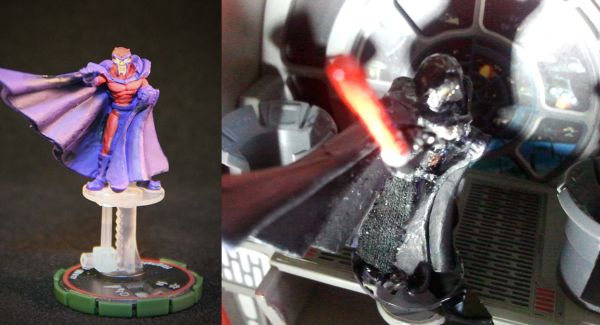 I had this Magneto heroclix for a while and wasn't sure what to make it into until I heard about this contest. So I decided to go with a classic Darth Vader from ANH.
Repainted Magneto in three shades of black his suit is greyish black, his helmet is shiny black, and the cape a matte black.
The helmet was re-shaped with puffy paint, and then detailed with metallic markers and a triangle painted piece of vinyl added to the front of the helmet.
His belt, and chest piece are also painted detailed vinyl pieces with a small chain added at the neck. The inner half cloak is real material cut and sewn behind the vinyl pieces.
Finally his lightsaber which is removable is cut from a plastic piece repainted and detailed.