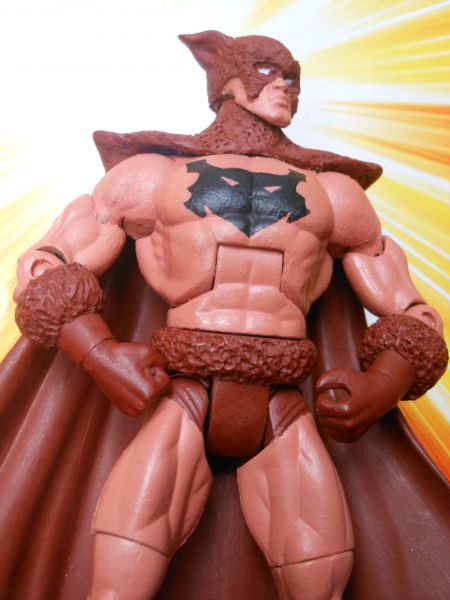 In the wake of Crisis on Infinite Earths, DC replaced the golden age versions of Superman, Batman, and Wonder Woman, with newly created characters to fill their void. Batman was replaced by Flying Fox, a Native American Shaman from Canada. Really, besides a similar profile to Batman, their abilities are completely different as Flying Fox's cloak gave the ability of flight and Shamanistic knowledge provided him with numerous other abilities including invisibility.

Flying Fox was made basically from Black Vulcan and a trimmed down Batman Arkham City cape. The cowl, shoulders, and fur trim around his gloves, belt, and boots are all handsculpted. I had originally considered using actual faux fur, but couldn't find a fur or fleece I was happy with, so when I had a little extra sculpt from another project, I tried sculpting the fur for one glove. I thought it turned out rather well so I went with that direction instead.

Overall I'm happy with his look, and will gladly add him to my other Young All-Stars collection safe in the knowledge that Mattel will probably never make him since he hasn't appeared much since the late 1980's.