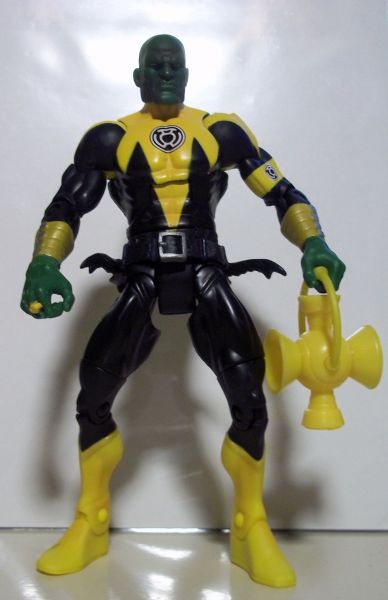 | | |
| --- | --- |
| Custom #: | 44958 |
| Name: | Sinestro Corps Member Klexx, Original |
| Custom Type: | Action Figure |
| Toy Series: | Green Lantern |
| Creator: | saber4734 |
| Date Added: | December 4, 2012 |
| Base Figure: | DCUC Maash/Low |
| Height: | 5.50 inches |
| Completion Time: | 2.00 hours |
Klexx was born to the race of savages known as the Tribanians. They have no honor, their species uses whatever it takes to win the battle. Whether it be their brute strength or well crafted weaponry. The Tribanians are beings known for their ability inspire great fear in the various native species of the Planet Trib. Klexx was no exception to this way of life. He quickly rose to a prominent status among his species. Taking the name Klexx The Cruel. And it was a name he earned as he took great pleasure in overseeing the torture of slaves in the territories dominated by the Tribanians.

Word quickly spread of the torture of slaves and the killing of innocents. A Green Lantern was dispatched to investigate. What he found were the bodies of thousands of native slaves. Trib was placed under Green Lantern protection and the salves were freed. All savage Tribanians were transported off of Trib to Oa. Klexx was sentenced to death for his actions. But during his transportation to Oa a Qwardian Power Ring inducted him into the Sinestro Corps.

Upon being inducted into the Sinestro Corps, Klexx killed the Green Lantern transporting him to Oa. Klexx returned to Qward and joined the rest of the Sinestro Corps. He carries two Tribanian daggers on him at all times. He uses his ring to instill fear but finds that gutting enemies with his daggers can work just as good.

Klexx participated in the invasion of Zamaron to free the captive Sinestro Corpsmen there. Following Sinestro's defeat of Mongul, he followed the directive to escape from Qward with the rest of the Sinestro Corps and form up on Korugar. However, he ignored the temporary truce with the Green Lanterns to combat the Blackest Night. He believed siding with the enemy to be a senseless act. Klexx left Korugar with thoughts of instilling fear throughout the universe.

It is unknown whether or not Klexx's Qwardian Power Ring was tainted by the built-in protocols Sinestro used to shut the Sinestro Corps down on Korugar.


Base Figure: DC Universe Classics Maash/Low
Head: Marvel Legends Drax (Used the dremel to make his head compatible. And i'm actually happy with how it came out. It sits lower on his neck giving him the look of being short, but still mean.)
Hands: Marvel Legends Drax (I cut his hands off and using some pegs from DCUC Maash hands I dremelled holes into Drax's hands. Little glue and they were ready.) I did have to use my xacto to cut a little off each wrist so the Drax hands would look better with the DCUC arms.)
Ring: I cut off DCUC Maash's ring and glued it to his hand. Added a little yellow paint to touch some areas up.
Belt: Well Drax comes with a belt and two knives. I felt this Sinestro Corpsman would look good with these also. So I removed the silver belt that is typical of the Sinestro Corps and replaced it with Drax's belt.
Paint Job: I mixed up some green and painted over the red on Drax's face.