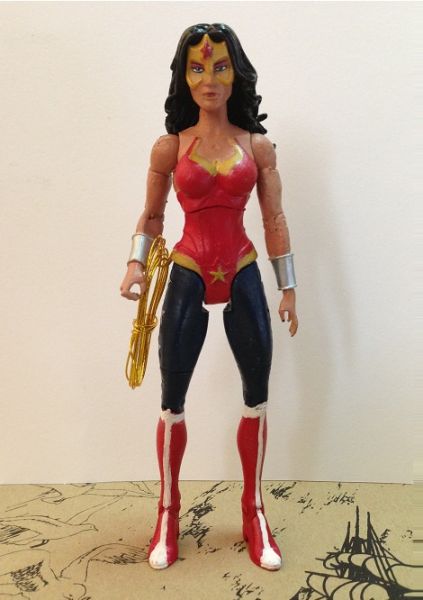 My third and so far most extensive paint job. I wanted a Wonder Woman to round up my Justice League but could only afford her Star Sapphire variant. I first removed the collar and filled the hole in front with pimple cream =P. I painted her torso and boots with a mix of metallic and matte red, and the leggings navy blue, then adding details on her boots. I pasted silver stickers on her legs for a pattern too.

My friend JeddTheJedi helped out with the gold details on the bustier. I replaced the lasso with one I bent out of gold wire, and I attached it to a small 'hook' made of gold wire too. The hands were swapped with DCUC Classic Catwoman, and finally I painted over the arm details with a slightly reddish fleshtone. I was going for 'Mediterranean' so I hope she doesn't look too much like a Jersey Shore reject. It was my first time painting fleshtones so that's why it looks so blotchy. Finally, I painted her hair glossy black to cover up the paint flecks that ended up on it.

Although seemingly less of an extensive do-over than my Cheetah figure, this one actually took longer, but I'm proud of how both turned out.