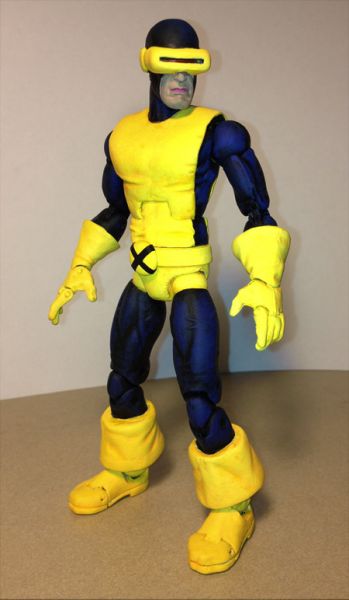 I had seen the TNA Sonjay Dutt used by Discogod to make a Daredevil, and bought one to copy his recipe, but ended up making something completely different. But I still had the body and I thought it'd work great for my Cyke. Right build - tall but lanky.
It's Sonjay Dutt + ML10 Cyclops head, hands and feet, which are kinda big and clunky and remind me of the old silver age art. All modified to take the stitching details off them.
Then you sculpt on the vest, a bit of cloth folds on his arms, the belt and buckle and some areas you need smooth on the feet. Plus rebuild the visor.
(grey stuff is Milliput, blue stuff is Apoxie Sculpt) Buckle includes a button and belt is some styrene strips.
Paint and go. That first picture has the flash on it so you can se the blue highlights I put in his costume.
I always liked this design and I'm happy with how it turned out. Fits in well. Let me know what you think!