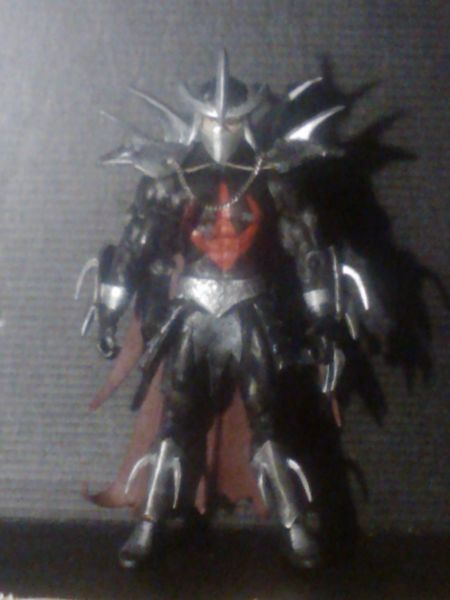 Torrinon... Kako Naso... Duke Acureds... Oroku Saki... by any name, he is to be feared. He is the Shredder, and take heed, those that cross him: NONE OF YOU WILL LEAVE ALIVE!!!

This is my take on old Tin Grin, a design I would be happy to see in other media. I had the idea of his tunic being smeared with the blood of an enemy or failed underling, in the pattern of the Dragon Claw.

Base: DCUC Classic Detective Batman
Head, Claws, Helmet, Pauldrons,: TMNT 2007 Shredder
Left hand: Marvel Legends Target Wolverine
Belt, Cloak: MOTU Hordak statue
Bracers: GI Joe Samurai Storm Shadow
Spikes:TMNT Shredder, MOTU Hordak Crossbow, green floss picks

The front fauld is leather, as is the connection between the pauldrons and the cloak, assisted by steel chain. I removed the mask from the helmet and made my own out of reflective card stock, which also served for the greaves. Few coats of paint, and boom.