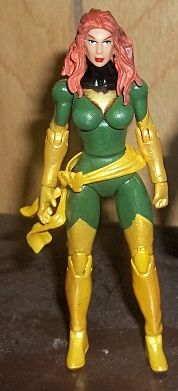 Not really too much to say here... I've long since wanted a Jean Grey for my collection that complimented the rest of my X-men toys, but it seems like Hasbro has been bound and determined to make Jeans I don't want (I like this look more, but I'd have accepted the Marvel Girl outfit as well). Which absolutely kills me, because doing normal Phoenix would be a straight repaint of two-pack Phoenix.

So yeah, finally got tired of waiting and repainted dark Phoenix. Green for the body, black for the neck, gloss sealant.

Now if Hasbro would release regular Angel, I'd be all set.