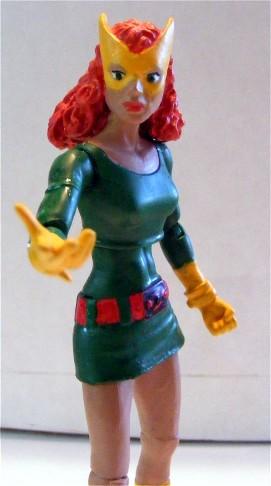 Recipie is:
Head: DC 52 Batwoman
Everything else: Marvel Legends Wal-Mart 2 pack Marvel Girl
Complete repaint of everything.

This one's my first ever custom figure. My younger brother (Cowboyink) got me interested in the hobby and then I picked up the 2 pack of Cable and Marvel Girl. As soon as I got them out of the package I noticed that apparently poor Jean had just taken a punch to the face from the Hulk or something. There's just something wrong with that facial sculpt... So I set to work on finding a better head. I've been lurking around for a while so I knew that a lot of folks used the poison ivy head for Jean, but I'm not sure that my skills are up for making the mask for this version just yet, so I stuck to looking for figures that had the upswept wing type mask. I may eventually change to a Hush Huntress head for one that's closer to the correct size (Batwoman's head is just a little too big in scale.) but for now I went with Batwoman to get closer to the right kind of body for the hair.

So, anyway, enjoy, comments welcome, and I'll be seeing you with more figures in the future.