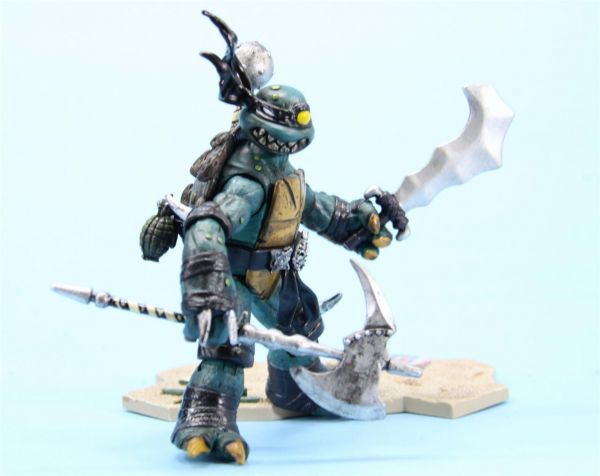 Started off as a Ralph. His shell front has been given more scratches,cuts and dings, his shell back has been re sculpted, for that more snapping turtle look. For the head, the mouth was dremeled out and teeth sculpted in, bandanna moved to the side of his head and resculpted eye (used a sunk in airsoft BB for his large eye) Spikes added to his elbow and knee pads, blades on his fists and sculpt wraps, added finger nails (claws) as well. Feet are completely resculpted, from 3 toes to 2 clawed toes! Then for some final details, to make him even more different from the other turtles...I added bumps all over his skin, head and shell

On to the accessories:

Battle Ax
Sword
MACE!
Grenade (original slash has a grenade on his belt!)
and snap on Knuckle Spikes!
Also, I threw in a display base for good measure!

Enjoy!