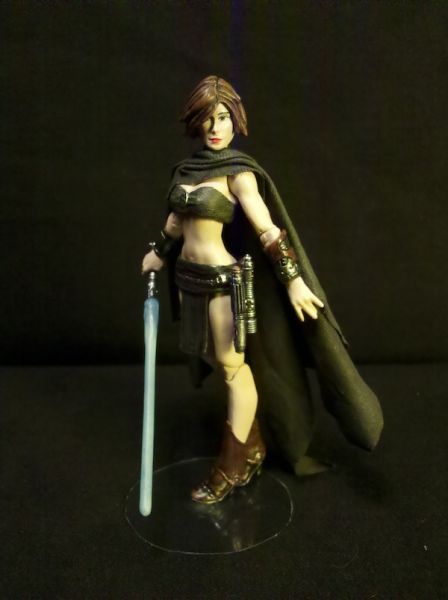 This is my first submission to Figure Realm. I have been checking the site out for a while and thought I would share. This is probably my favorite figure I have done so far. The clothing is removable and the figure is anatomically correct. It took a while to find a suitable base figure and I was lucky enough to find the MU Scarlet Witch in the wild. Any feedback is welcome and Thanks for looking.

Base figure: MU Scarlet Witch (legs modified for G.I. Joe-like articulation and looks)
Head: ROC Dialtone
Right Hand: TVC Obi Wan
Spats and Armlets: Zam Wessel lower legs and arms hollowed out so as to fit over the legs and arms
Belt: TVC Obi Wan with Mace Windu and Kit Fisto belt sabers. The saber in her hand is Obi Wan's.
Bikini Top: Cloth and acrylic, the brooch I shaved off of Zam Wessel's chest.
Cloak: Cloth and acrylic.