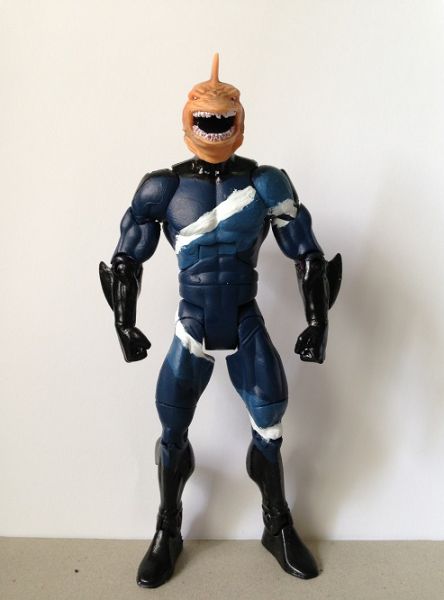 Like many who bought the action figure of Shark from Green Lantern, I wasn't too impressed with the paint job; a pity given that he's actually my favorite Green Lantern bad guy. Also, among the Legion of Doom figures I own, Star Sapphire already took up the "magenta" bit of the Spectrum of Evil™. So I decided to make him blue, with a few costume details inspired by the "ice skater costume" briefly worn by Aquaman (another DC hero he's squared off against).

Base coat is a navy blue, with collars, gloves and boots in metallic black. I decided to make three big stripes: one across his chest and two on his thighs. The white initially was problematic because it kept mixing with the light blue, but I eventually managed to get it to work. I added a touch of white on his fin based on the white-tipped shark.

A simple repaint, but I think it worked out in the end. Let me know what you think!