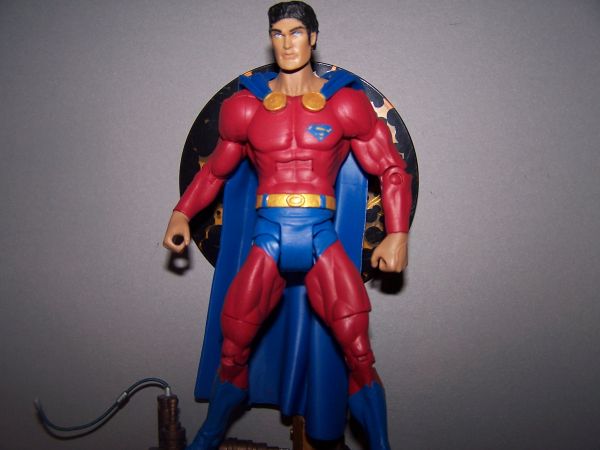 I needed a custom of a character who could be beaten with a lead pipe or ball bearings ,lol. I chose Mon-El because he fits the bill. Suppose he and Superman were in the same room together and you had a chunk of kryptonite in a lead box you would have to chose who would kick the bucket.
Universally known icon vs Superboy rip-off You decide.
After reading some JLA I decided to take a stab at Mon-El.
Recipe is simple and as follows...
DCUC Starman
DCUC Variant Starman head.
Removed the goggles off of the modern Starman and sculpted the hair.
Removed the gun holster off the original Starrman belt, and added belt loops.
Cape swap from fodder bin. (same cape as the original Starman but was the correct colour, who knew)(still cant recall who it came from originally)
Added the cape holders and modified the cape to fit.
Added Superman logo.
Complete repaint from head to boots.
This costume is Mon-El in his costume honoring Superman Not sure of the story line but I thought it was cool. He really is a nice guy.
Hope you like.