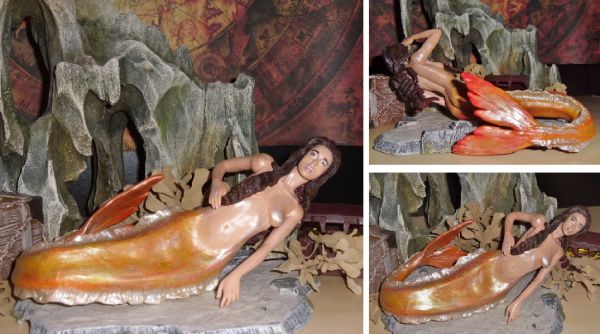 Being a huge Pirates of the Caribbean fan, I was hugely disappointed in the lack of mermaid figures after Pirates 4 On Stranger Tides, so I decided to make my own, namely Syrena.

She started life as an Adult Superstars Nikita Denise action figure. I removed the legs, sanded down and smoothed her scowling eyebrows, her "chest details"(the mermaids had scales covering their modesty in the film) and sculpted her tail out of super sculpey over a strong wire frame. The hair is a mix of the original figures hair and LotR Arwen and Galadriel's hair which I glued and blended together. She was then painted with a mix of acrylics and varnished. She is approx 10 inches from top of head to the tip of her fin, but is roughly in scale with the 7 inch figures released by Neca and Jakks Pacific.

I am so proud of her, hope you like her too.