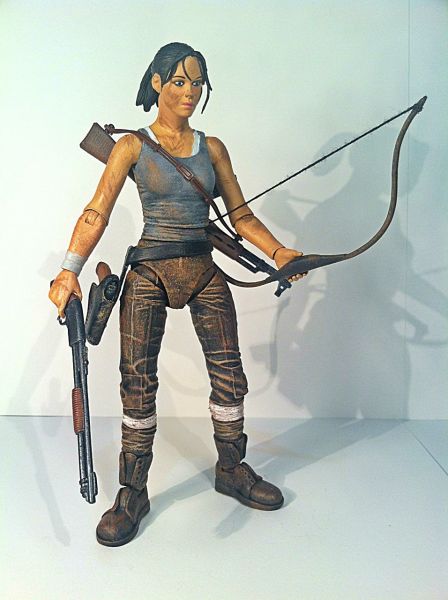 I wanted to try my hand at making a NECA styled Lara Croft. She's not completely game accurate, but she's pretty darn close!
I started off with the new Chell figure from Portal 2. If anyone has seen it, then you know that she's sporting these fancy high heeled space looking boots. So I ended up cutting the legs off from the knees down. I then attached some Marvel Legend Xorn lower legs, sanded them down, and completely re-sculpted from the knees down...wrinkles in the pants, the white straps around her calfs and even the hiking boots...ALL re-sculpted.
Holster is from the Expendables 2 Sly figure and the belt was sculpted in.
Torch is made with a random handle painted to simulate wood and glued to a plastic flame. I wrapped thread around the base of the flames.
Bow is from NECA's Katnis.
Shotgun is from NECA's Kyle Reese.
The AK-47 was just a cheap looking grey plastic gun that was given some detailed paints.
(sorry, no really good pics)
All finished off with multiple layers and shades of dry brushing and washes. Also added some mud and dirt on her clothes and skin for that added effect of being stranded on an island for days.
Thanks for looking and I hope you enjoy!