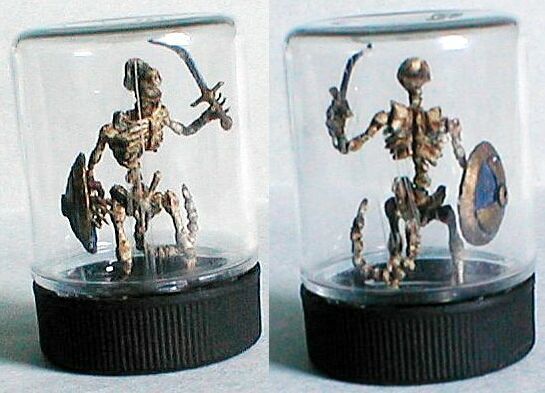 | | |
| --- | --- |
| Custom #: | 48412 |
| Name: | Undead Kobold |
| Custom Type: | Action Figure |
| Toy Series: | Wizardry |
| Creator: | Patraw |
| Date Added: | March 28, 2013 |
| Base Figure: | Sculpted from scratch |
| Height: | 1.70 inches |
| Articulation: | 39 points |
Skeletons, particularly dinosaurs and other prehistoric organisms, are often found in museums, so, from that standpoint, I feel that an Undead Kobold in a display case fits with the theme of the Museum of Curiosities challenge. While I was brainstorming ideas, I considered a variety of skeletal projects, but ultimately decided on an undead creature, simply because they have play value beyond inanimate bones. I pity the museum's staff and patrons when this little critter inevitably escapes (only having an understanding of medieval technology, it's convinced that the plexiglass imprisoning it is some kind of magical force field that it must overcome) and starts causing mayhem...

Kobolds are small (3 feet in height), nasty humanoids that resemble a cross between a lizard and a dog (in Dungeons & Dragons and its derivatives anyway, historically, they're more elf/fairy-like in form). My figure is based on the recurring enemy from the Wizardry series of RPGs in particular. Fun Fact: The element cobalt is named after Kobolds; when miners found the unknown impurity contaminating the valuable ores that they were after, they blamed it on the mythical creatures and the name stuck.

I made the display case out of an empty candy cake sprinkles container that I had been saving for some time (I thought maybe I'd use it to make Metroid's Mother Brain or something similar someday). I removed the black expiration date off the bottom of the transparent cylinder with some "Gojo Hand Cleaner" cream, painted the pink plastic cover black, and fabricated a 3/16" thick cardboard spacer which I glued onto the interior of the cover so that the figure would be able to stand a bit higher up inside (the view still gets cut off at the shins, but, I also wanted some clearance above the head so that the sword could be partially raised). Basically, you pose the figure the way you want, carefully squeeze it, upside down, through the container's top, screw the top on, turn it over, and pray that the figure lands on its feet and stands properly, if not, much profanity ensues, and you shake and tilt things until the figure cooperates.

The Undead Kobold action figure and its accessories were made completely from scratch over a period of five days. While the shield and sword are painted, the figure isn't. I chose to finish the off-white surface of the Undead Kobold with a woodburner instead (the brown discoloration and scorch marks make for realistic-looking dirty/aged bones in my opinion). The Undead Kobold has 39 points of articulation total: Neck vertebrae x 3, shoulders x 2, biceps x 2, elbows x 4, wrists x 2, abdominal vertebrae x 4, tail x 10, hips x 4, thighs x 2, knees x 4, and ankles x 2. Additionally, the two straps on the shield are also adjustable to accommodate different sized arms. I always enjoy articulating skeletons, because, with the exception of the rib cage, pelvis, and skull, they're essentially stick figures, so, they have a much broader range of motion than fleshy creatures, because there's very little to obstruct the joints.