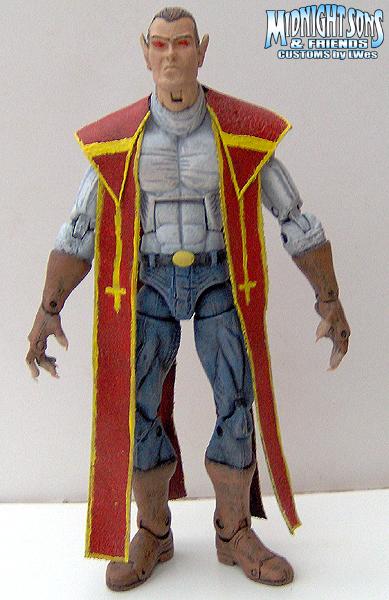 The Nightstalkers were an important part of the Midnight Sons, and Hannibal King was one of the three Nightstalkers, alongside partners Blade and Frank Drake.
I've always like this vampire P.I. and here he is in the outfit he wore during most of the Nightstalkers series. I made a Hannibal custom before, but lets forget that ever happened, because this one is a lot better.

I used a Moon Knight body as the base and an Archangel head from our friend Black Arachnis. I sculpted some details on the body and hair and ears on the head, as well as very delicate sharp nails.
The thing that was the hardest to figure out was the darned cape-thing he wears.
I looked at lots of reference pictures before I understood how it was supposed to look, and I drew a pattern and modified it until it looked good. Then I cut it out in fabric and painted it.

I'm really happy with the figure, think it came out nice and it looks like the character, so now I only need a good Blade to complete the trio!