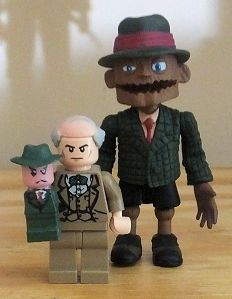 So when I finally nailed down who I wanted in my Batman collection, I tacked on old Scarface here because he presented such a unique challenge. Sure, there's a couple animated versions and even a Ventriloquist-less version of him as a Joker accessory, but he's largely a character I would have to figure out how to do on my own.

I started with the Lego version first. I agonized over it for a bit, but then I discovered that the little board games Lego makes have these things they call "micro-figures" which are about half the size of a normal minifig. I took one, used my Dremel to drill a hole big enough for a normal Lego arm to fit through, and then repainted him.

Finally, to make the hat, I actually just made a 3d version of the hat and had it printed. It ended up a hair too big, but it looked fine and I used a bit of glue to hold it in place.