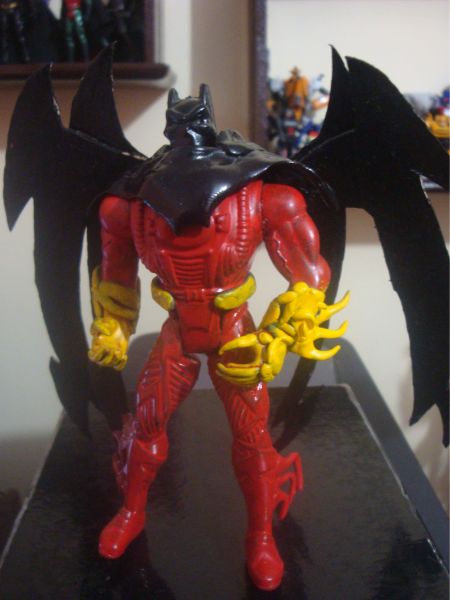 Greetings friends, this time I present my last custom:
Azrael Batman this was a request from my fiance, because she liked the design of the original KnightQuest once showed it in some images.

Recipe:
For Azrael's helmet, use the head of an action figure of Batman "animated series", only had the head so I served to shape the hull.

For detailed show Jean Paul Valley without a helmet, use the head of a action figure of a wrestler, repaint his hair and eyebrows blond, and had to re-sculpt the face, since the face originally had open mouth scream signal.

For the body use an action figure batman forever, he had no head or arms. The belt and the details of the claws on the legs was made in epoxy putty.

For arms use an action figure of a wrestler, served me very well also with details of veins make him look more menacing to Azrael.
The details of the hands and claws were made in epoxy putty.

The chest protector and wings were made ​​from scratch, with putty epoxy and cardboard and screws to give movement in different poses to the wings.

Thanks for your visit, greetings!

Abe.