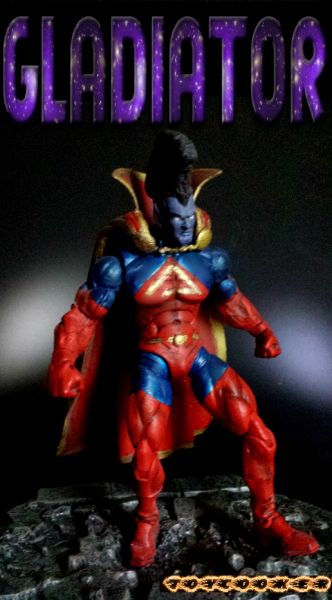 Hey folks, today I bring you my custom Gladiator. He was made using the following parts:

Torso and Legs:WWE DA Large body(thanks for the hookup Stevid)
Arms: Series 3 Thor
Hands: Guile cast from casting cave
Boots: Mr Sinister (Kitbashed)
Head: Hyperion sanded hair off with Savage Dragon fin sculpted over and sculpted pointy ears

Wanted to make him big and Imposing, and followed the paint scheme from the Bowen Statue. His chest symbol really stands out in direct light as I used two tones of metallic gold, it looks kind of weird in the lower light pictures, but much better in person. Hope you guys like him. More pictures on that place where we buy fodder and other stuff and who routinely dips deep in to my bank account..