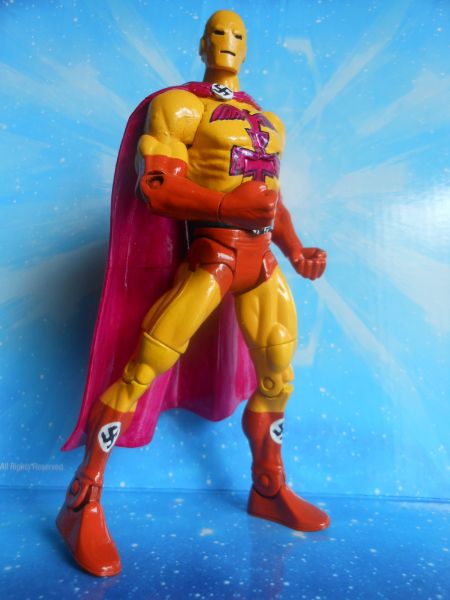 "Baron Blitzkrieg was a frequent opponent of the heroic All-Star Squadron, a band of costumed adventurers who fought domestic and foreign menaces during World War II. Baron Blitzkrieg was originally an especially vicious German army officer who was blinded when a concentration camp prisoner threw acid into his face. German scientists experimented on Blitzkrieg, giving him superhuman strength and the ability to fly."

I like to play it safe around SDCC so I don't spend hours on a custom only to have Mattel reveal the same character days later. I'm pretty sure any villain with Nazi emblems is a safe bet not to be made by Mattel.

The Baron was made from a DCUC Hourman body, a modified Superman cape, and an HML Iron Man head. Not a difficult formula, but painting with pink and yellow wasn't that fun. Especially when the emblem had to be outlined in black. But it's all hand-painted, maybe not perfect, but I think he turned out good.

Thanks for looking!