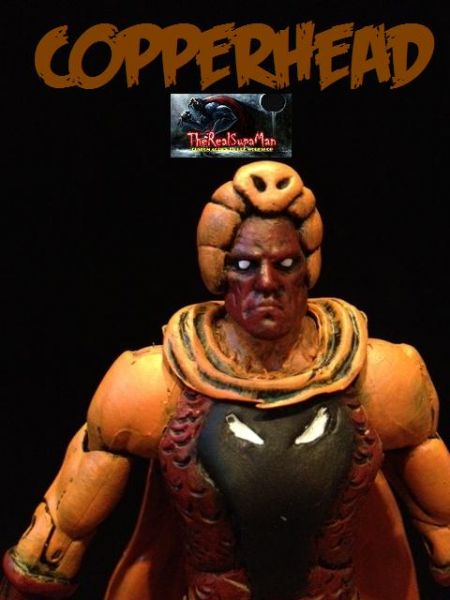 This is Copper Head!
Davis Lawfers is the leader of the so-called fourth Serpent Squad (consisting also of Fer-de-Lance, Black Racer, and Puff Adder), and one of the Viper's most loyal minions. On a mission for her, he helped to contaminate Washington D.C.'s water supply with a chemical that could transform people into human/snake hybrids. During this assignment, friction existed between the Cobra and himself. When the Cobra became the new leader of the Society, Copperhead did not remain for long making only one other appearance. Copperhead has no superhuman powers but is equipped with a pair of gauntlets which fire power blasts and poisoned darts. For protection he wears a suit of copper-colored scale mail.
His motif is based on the copperhead snake.

This is a DCU Base figure, Head is ML Punisher.
Sculpted the head, the chest symbol, the torso and skirt, the gloves and the boodts, wrapped him up with some paint.

Thanks for looking and as always I appreciate any comments!