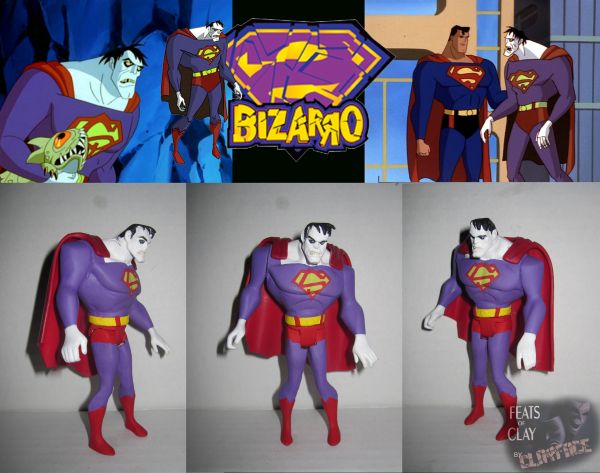 | | |
| --- | --- |
| Custom #: | 53333 |
| Name: | STAS Bizarro |
| Custom Type: | Action Figure |
| Toy Series: | Superman |
| Creator: | Clayface1 |
| Date Added: | September 4, 2013 |
| Base Figure: | Kenner STAS Bizarro |
| Height: | 4.00 inches |
| Articulation: | 5 points |
This figure was a lot of work from the beginning idea & ended up turning into more work along the way. I couldn't stand the mattel JLU Bizarro. He was too small, once again like the mattel Superman the legs were too stumpy, & there were no sculpted on detail lines. Plus Bizarro always stands in kind of an awkward clumsy looking pigeon toed pose. The Kenner STAS figure from the 90's was great. Captured his look & that awkwardness perfectly. But as with the rest of the STAS line, he was too big & didn't blend in with the TNBA Batman figures. Much like the BTAS Scarecrow he also had an action feature where there was a wheel on his back & his arms spun around. It was cool as a kid, but I don't care for those action features anymore. So I thought it was time to take care of that by combining some figures. Originally this started out using the articulated mattel JLU Batman legs. But that didn't work out too well & I just ended up trashing them. Me warned those 10 point articulated JLU figures have very odd joints. Because of that I ended up cutting both version Bizarro's in half. I boiled & popped the arms out of the mattel JLU one since I was going to use them & wanted the articulation. The problem was the legs were too short & too straight as I mentioned earlier. So I cut them at the knees & sculpted them in a more awkward position. I also added some height to the figure by making them longer. Then I sculpted the underwear & boot lines since of course mattel was too cheap to do that. Now came time to fix the Kenner upper body. The upper body wasn't bad, but I had to fill the hole in the back where I removed the wheel & sculpt over some of the muscle detail to make him look more Timmverse. The arm sockets were also pretty awkward. The right arm just really flailed out to the side. It looked alright with the Kenner arms, but I knew it wasn't going to look right with the mattel ones. I started grinding down his side/shoulder a bit on both sides. The left wasn't too bad, the socket was still pretty much in tact. But in order to get the right one close to where I wanted it, I had to destroy the right socket. So I just built them both up with apoxie. Here's wher it all fell apart, I mean that literally. After the apoxie sculpt was hardened the next day, I boiled the arms to insert them into the sockets. The left arm went in fine but the right one completely destroyed the socket I made. There wasn't enough plastic there to support it. I thought to myself after all this work & it's a wrap. I could have just glued the arm in place, but I am determined to have most of my customs with as much articulation as I can. So I decided to cut the arm socket out of a half Batman body I had laying around & use that for reinforcement. This time I built the reinforced socket with plumber's putty since that stuff is like stone when it hardens. I didn't know if it was going to work out, but I had nothing to lose since the figure is trashed already. Thankfully that all worked out, the arm boiled right into place in my completely homemade socket. So I took a cape from a JLU Superman & cut it exactly like the mattel Bizarro's. mattel made Bizarro's red more like a burgundy, but on the STAS cartoon it's definitely red. So I had to use Supes cape. Then entire figure was sanded smooth & painted. This was a lot more work than I had planned. But I really like the way he fits in with the rest of the Timmverse figures. I definitely think it was all worth it.