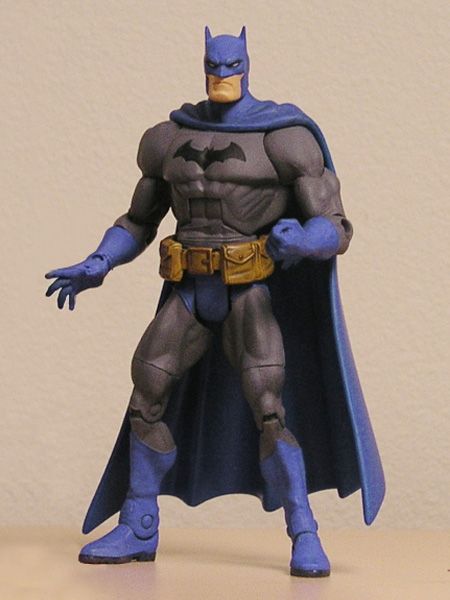 2006
After taking a break I got ahold of the DCSH series 3 Batman, and for the first time I thought I might be able to make a really nice Bats. I had the Hush, the DCSH series 1 and the 2003 Zipline Bats, and like the new DCSH series 3 Batman, I wasn't totally happy with any of them, so I used all 4 of them to make this.

DSCH Series 3 Batman: body
DCSH Series 1 Batman: cape, hands
Zipline Batman: belt
DCD Hush Batman: head

Some work to get the parts to all fit together and the only other mods were to smooth over the gloves of the newer Bats in ser. 3 to match the older ser.1 gloves. The hands swap out, whihc is needed if you want him to be able to hold all thos batarangs that came with ser. 3 Bats. A fresh coat of paint over the whole thing and there you have it. Finally a Batman I could really get into, and it fit in perfectly with my other toys. And this custom inspired a lot of others to do the same sort of thing, which is always flattering. Strange to think this is now 7 years old! Let me know what you think.