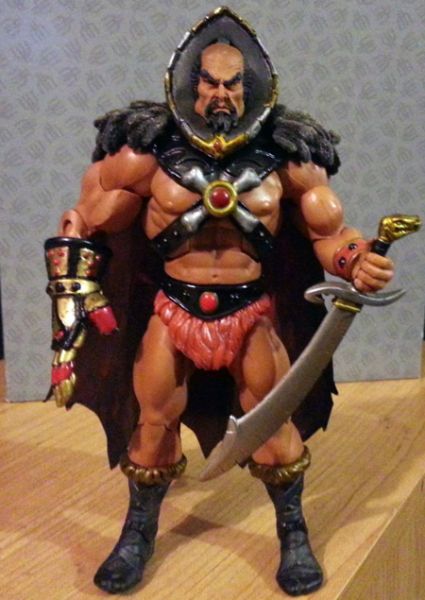 I always thought that Jitsu would benefit from a new look if he was to be taken seriously as the successor to Skeletor, and so this fella was born. Cheers!

Assembled using the following parts:

MOTUC Jitsu Body and Head
Modified MOTUC Skeletor Chest Armor
Modified MOTUC Hordak Collar
Modified MOTUC King Grayskull Cape
MOTUC Demo-Man Sword

Fan Created MOTUC Bio for Emperor Jitsu (Not canon so he can be whatever you want him to be!)

When Skeletor and He-Man disappeared following the Second Ultimate Battleground, Jitsu saw an opportunity to reassemble the Evil Warriors of Snake Mountain under his own dominion. Never one to expect that something simply be given to him, Jitsu roamed the ravaged Eternian countryside to recover various items from fallen empires and to slaughter all who oppose his will. When he returned to Snake Mountain with new recruits and a new wardrobe there was no doubt that this was not the same man that left. This was the rise of Emperor Jitsu!