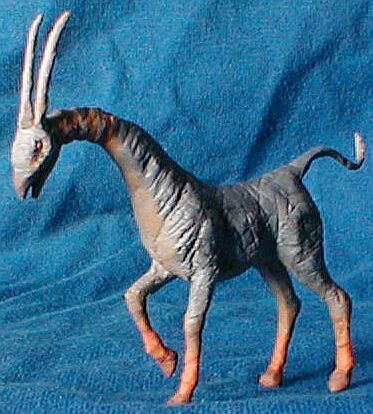 | | |
| --- | --- |
| Custom #: | 55670 |
| Name: | Cursed Demon |
| Custom Type: | Miniature / Figurine |
| Toy Series: | Misc |
| Creator: | Patraw |
| Date Added: | November 15, 2013 |
| Base Figure: | Sculpted from scratch |
| Height: | 2.40 inches |
| Completion Time: | 5.00 hours |
Quadruped horrors that can be encountered in the Beast World region of From Software's 1998 Shadow Tower Playstation roleplaying video game. While predominately equine in form, Cursed Demons also seem to exhibit some reptilian and avian attributes. As these beings are infernal in origin, one shouldn't read too much into their physical shapes, as entities from Hell are notorious for assuming a variety of grotesque forms when they walk amongst humankind. I should note that all of the monsters on the second floor of Beast World, where the Cursed Demons reside, are invisible unless you obtain the Young Dragon Gem item on the first floor and place it on the corresponding pedestal. If you don't find that jewel, it won't matter what the Cursed Demons look like, because you won't be able to see them, but, they will most definitely be able to see, and kill, you! These creatures attack by charging and goring targets with their sharp horns, delivering devastating kicks with their hooves, or by biting. However, of greater concern is the debilitating curse field effect (hence the monster's title) that radiates from its unwholesome flesh. If you become afflicted with this malady the result will be a steady decline of both your hit and magic points, so, it's obviously a condition that you want to avoid at all costs. That being the case, it's best to strike these horned foes from a distance, either with arrows/bolts or magic spells. Naturally, a Cursed Demon isn't going to just stand there while you rain projectiles upon it, so, the best that an adventurer can probably hope for is to seriously injure the galloping devil from afar so that when it does draw near it can be dispatched quickly, hopefully before you fall victim to its dreaded curse.

As usual, I had a hard time narrowing down what I wanted to make for this challenge. I was leaning towards classical demons, like something from the Ars Goetia (the first section of the Lesser Key of Solomon, an infamous grimoire of demonology). I actually made a Baphomet figure first, a "demon" that members of the Knights Templar were accused of worshiping by the Catholic Church, which, many scholars now agree wasn't really a demon at all, but likely a corruption/mistranslation of the prophet Muhammad's name (some of the Templars apparently converted to Islam while away on the Crusades), but, upon completing it, I didn't feel that project was of good enough quality for a contest entry, so, it was back to the drawing board. After scouring through the many gigabytes of monster images on my hard drive, I ultimately decided on the Cursed Demon because its old-school, animalistic design is very similar to the type of thing that you'd see in the Ars Goetia and similar works (well, that, and I have a thing for horses lately). I sculpted/modeled the figure, completely from scratch, relatively quickly, in about 3-4 hours, and then I tried something a bit different, technique-wise, when it came to painting. Rather than waiting for each color/coat to dry before applying the next, I painted the entire thing wet, much like if I were doing a picture on canvas. While I wouldn't recommend that approach for everything (it's great for blending, but also incredibly easy to screw up), I think it worked out fairly well in this case.