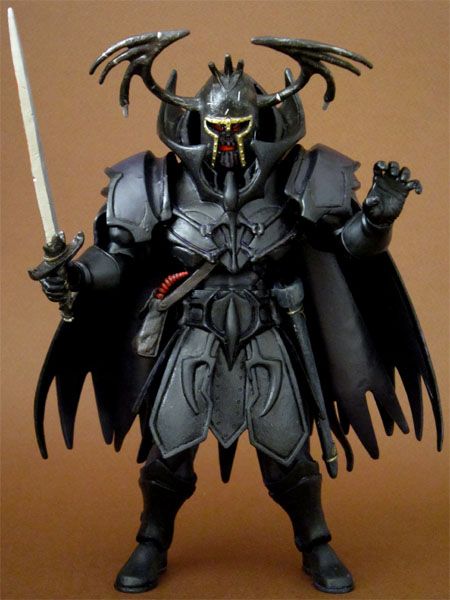 Wrarrl The Devourer of Souls

Wrarrl (also known as Wraarl or Wraal) is a demonic creature who feeds on the souls of humans. Wrarrl has enhanced physical strength and is a master of the black arts of sorcery. His deadly sword can ravage the body and paralyze the soul. He possesses the ability to turn humans into worms that represent their souls, which are stored in his pouch and later consumed to increase his strength.

Now here's the story behind this form of Wrarrl.

Conan the barbarian defeated Wrarrl by cutting off his head in battle. Wrarrl's decapitated body fell and so did his sword. Suddenly, a mysterious pit of darkness emerged on the ground directly beneath the sword, causing it to fall through.

The pit was actually a mystic portal, a tunnel connected to another world, Eternia. On Eternia, the sword of Wrarrl was transported to the secret lair of the Faceless one, guardian of enchanted artifacts. He had cast a spell to open a portal between worlds in order to retrieve weapons of dark magic. It was his undertaking to keep such weapons stored away, hidden where they could do no further harm.

The Faceless One was unaware that the evil demon's spirit still dwelled within the blade. He lifted it up by the handle and then, by the power of evil… the spirit of the Devourer instantly possessed the Faceless One's body. He became the new embodiment of Wrarrl, the most powerful demon in the universe! "I have the POWERRR!" he roared, and he was hungry.

One of Wrarrl's first confrontations on Eternia was against the barbarian named Vikor. Wrarrl declared, "You are like another barbarian I once faced. I hate barbarians!" Wrarrl now had the combined wisdom and mystic strength of the Faceless One. This gave him the advantage, so Vikor was eliminated.

But what the demon did not know was that his nemesis Conan later also jumped into the pit to search for where the sword of Wrarrl had fallen. Conan went through the portal and eventually set foot on Eternian soil.

Their battle will begin yet again in a different land. However this time, Conan must beware of this latest incarnation of the Devourer of Souls because he now possesses the added capabilities of an immortal Elder of Eternia.

The Faceless One now has a face, and it is the face of Wrarrl!

There you have it. If you liked this Hyborian age and ancient Eternian crossover story, which was my own fan fiction, then I hope you like the custom figure too. It's a Legendary Comic Heroes Wrarrl's head, sword, and pouch on a Masters of the Universe Faceless One body painted black.

Thank you all for Voting for this on the Angels and Demons custom contest!