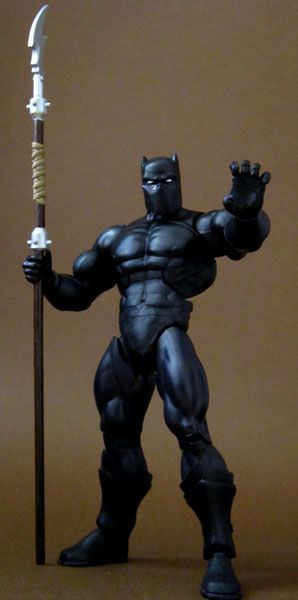 "Heroic King of Wakanda" would be the description for this Marvel comics hero if he was with the Masters of the Universe.

I got a couple of MOTU Faceless One figures on sale at Big Lots stores. This is the second character I've customized using this base figure (the other was Wrarrl). I thought of making a Black Panther because of the open claw-like hand. After removing the armor, I sculpted the hip area then painted it black.

The head is modified from a Batman Unlimited Dark Knight Returns figure. The alternate unmasked head is from MOTU Clamp Champ.

A blade weapon from a 3 inch movie Bane and a pole of an American flag from DC Direct Superman were combined together to make his Wakandan spear.

Since the figure is larger than most Marvel Legends, I put him up against a bigger Marvel Select Sabretooth.

I really enjoyed putting this guy together. Thank you figure realmers for all checking it out and your comments!