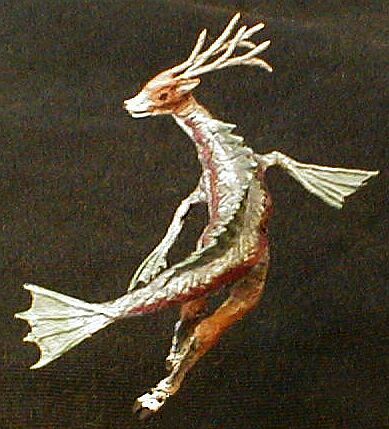 | | |
| --- | --- |
| Custom #: | 56437 |
| Name: | Makara |
| Custom Type: | Miniature / Figurine |
| Toy Series: | Megami Tensei |
| Creator: | Patraw |
| Date Added: | December 14, 2013 |
| Base Figure: | Modeled from scratch |
| Height: | 2.30 inches |
| Completion Time: | 8.00 hours |
In the Hindu religion, Makara is the living Vahana (vehicle) of the goddess of the Ganges River, Ganga, and, sometimes, the god of the sea, Varuna. Makara, which means "sea dragon" or "water monster" in Sanskrit, is usually depicted as being half fish and half some other animal, although exactly which organism can vary considerably. These combinations include, but are not limited to, elephant, crocodile, and stag (which is obviously what we have here). Several experts have hypothesized that the myth of Makara is based on sightings of various real-world animals that are, or were, native to India, like the South Asian River Dolphin (once numerous, but now endangered) or even the prehistoric mammal Ambulocetus.

After some consideration I narrowed down my character choices for this Mythic Might contest to either Makara or Odin's 8-legged horse, Sleipnir (who, strangely enough, is actually one of Loki's monstrous offspring--Sleipnir is the direct by-product of Loki getting raped by a stallion while he was in the form of a mare, a shape that he assumed to distract said horse from its job of helping the guy that was building the fortifications around Valhalla. You see, if said laborer finished the job late, just like pizza delivery, the gods didn't have to pay--so, yeah, the Norse deities are a bunch of no-good cheapskates. If you've never understood why Loki hates the other Aesir/Vanir so much, that little episode is reason enough for you right there). Anyway, I modeled Makara completely from scratch, painted it with acrylics, and did it all in one day (on lucky Friday the 13th at that--well, luckier than Loki's sore posterior at any rate). In particular, my figurine is based on Kazuma "Kaz" Kaneko's artwork of the monster from Atlus' 1997 Sony Playstation/Sega Saturn RPG Devil Summoner: Soul Hackers.