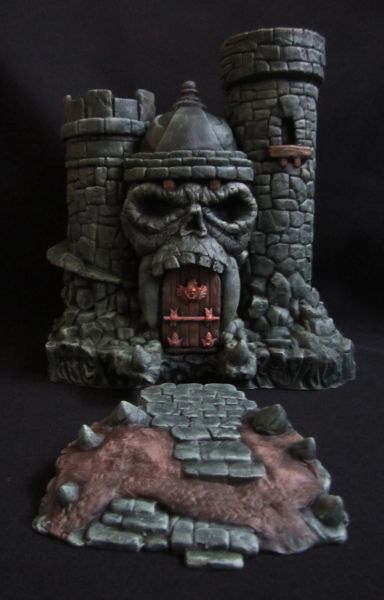 Been working on this thing for quite some time. I wanted a Grayskull that actually looks like it's been around for god-knows how many centuries; worn down, forgotten by time. I like the feel of the mini-comics castle the best out of all incarnations, so tried to go from there. I kept all the "must-haves" like the wooden balcony, the ledge, the wooden braces on the brows etc. and kinda freestyled the rest. The "pawn" is attached with a magnet so it's optional, the drawbridge has a small hinge so it opens/closes. It also has a fully detailed backside with doors that lead to the towers and a winding staircase

I´m a casual MOTU fan (collect ThunderCats) so have no need for a large scale castle. This Grayskull measures approximately 10.4" H x 9.2" W x 7.6" D.

Sculpted from scratch and painted with several brands of model paint.