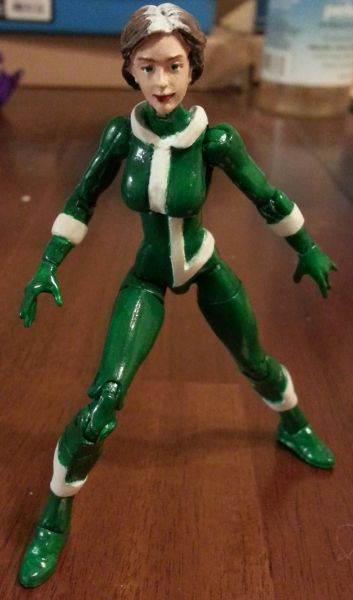 Probably my absolute favorite comic run ever (definitely the most influential for me collecting as a kid) was Paul Smith's X-Men run back in the 80's. Hasbro made every figure necessary to build the team lineup from that run with the exception of both classic Rogue and Kitty (who changes uniforms so often that pinpointing a definitive look from that era is futile). I decided to make both of them, and Rogue got done first. Basically just chose a head cast from Star Wars Geek Customs that I felt best captured her hairstyle from that time period, and proceeded to sculpt and paint up an MU Medusa body. The green paint was a serious PITA to get done to where I was satisfied enough with it. I eventually want to clean up a few details on her, but I say that about all my projects before I get distracted making my next idea. lol
I'll eventually get Kitty done to have the full Paul Smith lineup.

Recipe:
Body: MU Medusa
Head: Custom cast from Star Wars Geek Customs
White costume accents were sculpted and painted on with Aves Fixit Sculpt.