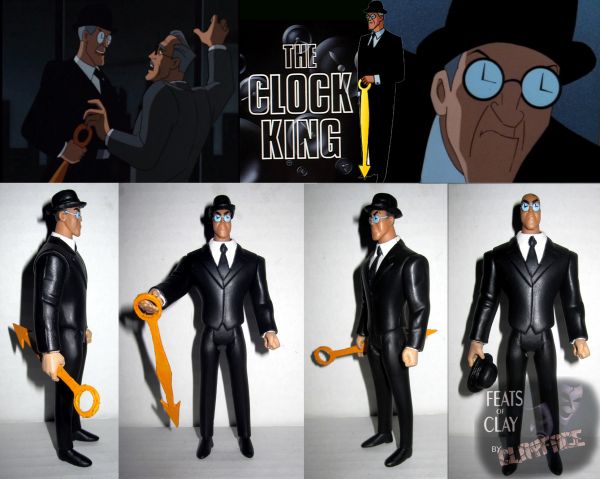 | | |
| --- | --- |
| Custom #: | 58421 |
| Name: | BTAS Clock King |
| Custom Type: | Action Figure |
| Toy Series: | Batman Animated |
| Creator: | Clayface1 |
| Date Added: | February 14, 2014 |
| Base Figure: | mattel Clock King |
| Height: | 4.00 inches |
| Articulation: | 5 points |
We all know mattel's MO of dropping the ball making most JLU figures. They usually screwed something up due to being cheap & reusing parts. The Clock King was no exception. They didn't give him the hat, the clock glasses, his clock arm cane weapon, & pretty much made him the wrong colors. The original episode of BTAS The Clock King he wore a brown suit, but had tan pants. mattel was just too cheap to paint the pants tan. In the episode Time out of Joint, he had a black suit that he wore. That's the Clock King that I prefer I based my figure from. I made this guy when I first got back into customizing a couple years ago. Wasn't really happy with him. I sculpted the hat & it was pretty sloppy. I also spray painted him black. The room I my house that I have my display case in is upstairs. In the summer it always stays hotter than the rest of the house due to the ventilation. So he would get sticky in the case during the summer months. But what bothered me the most was that wide stance he had. mattel just reused the Two Face suit buck. The wide stance looked fine for Two face, but Clock King doesn't really stand like that. It seemed like my Clock King had a wider stance then some of the others out there. So it was time to fix all these issues.

I saw Zelu fix the stance & it was on my mind ever since. I asked him to send me some pictures of how he did it but he never did. So I did things my way which was probably the more complicated way. I tried to cut small slits in the legs & glue them together so they would be closer. But it really didn't work out to well. So I just ended up cutting the legs completely off. I cut more of an angle & then glued them back on to give them a closer stance. Then I covered the seem with apoxie & sanded it smooth. I finally had an extra hat from the TNBA Riddler so I just used that. That hat is still removable like the first version. The cane I fixed so could now hold it by the loop in his hand that I replaced when I originally made this figure. The first time I made the cane, the ring was too small for him to actually hold it. The entire figure was repainted with P3 & will be dullcoated to seal in mattel's toxic plastic to stop him from getting tacky.

The last pic is what the stance used to look like. Sometimes it's the little changes that really make the figure IMO.