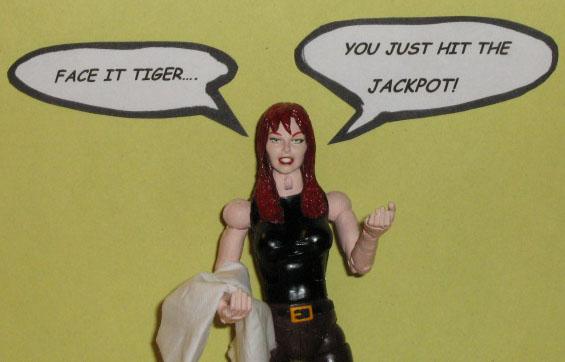 Looking through my spider-man figure collection, I realized that spidey didn't have anybody to rescue from his villians. Mary Jane seemed like the best choice but she doesn't have a constant "look". I chose her first appearance by legendary artist John Romita Sr. because I think that's how most people can recognize her.

I'm still pretty new to customizing and besides a few minor detials I'm happy with how she turned out. For me the hardest part was the colour of her hair, 3 coats of 4 different reds. I hope you like her.

Recipe : ML Phoenix with the hair taken off and sculpted from scratch with GamesWorkshop green stuff.Yes in case you were wondering I did sacrifice head and neck articulation to get her hair style.
Pant pockets and zipper and belt are Aves apoxie with the belt buckle made from craft foam sheet.