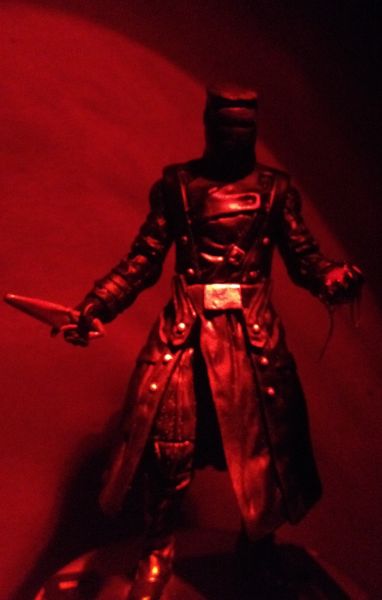 OUT FROM THE NIGHT, FROM THE MIST, STEPS THE FIGURE.
NO ONE REALLY KNOWS HIS NAME FOR SURE.
HE STANDS AT SIX-FOOT-SIX, HEAD AND SHOULDERS.
PRAY HE NEVER COMES KNOCKING AT YOUR DOOR!
SAY THAT YOU ONCE BOUGHT A HEART,
OR NEW CORNEAS,
BUT SOMEHOW NEVER MANAGED TO SQUARE AWAY YOUR DEBTS.
HE WON'T BOTHER TO WRITE OR TO PHONE YOU.
HE'LL JUST RIP THE STILL-BEATING HEART FROM YOUR CHEST!!


hi everyone! Love Repo the Genetic Opera so I decided to make the RepoMan. Used a Red Skull body with modified AIM head. Thanks!!