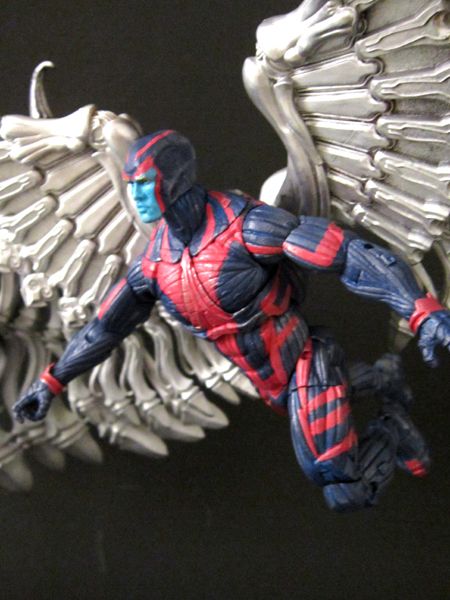 Archangel's wings keep on changing and this is another design in his next evolution. Ever since Warren Worthington gained new wings when he first became one the 4 Horsemen of Apocalypse, he has never been the same. His look varies depending on different storylines and artistic interpretations.

Of all the various suits he's had, I still prefer Archangel's blue and pink colors on the suit. Though I've reinvented it by using a different type of body suit.

Head – combination of Icarius and The Faceless One
Body – Crysis Nanosuit, painted with acrylic and enamel paint
Wings – from a video game figure (can you guess which one?), painted with Model Masters Metalizer.

The wingspan is approximately 17 inches wide. Hope you guys like it!

***Update***
The wings are from a Final Fantasy figure called Bahamut.

Thank you to all of you for the votes and comments during the "Winged Wonders" contest.

And if you haven't seen the contest entries, check them out under the contests section. There were many amazing customs of winged characters.