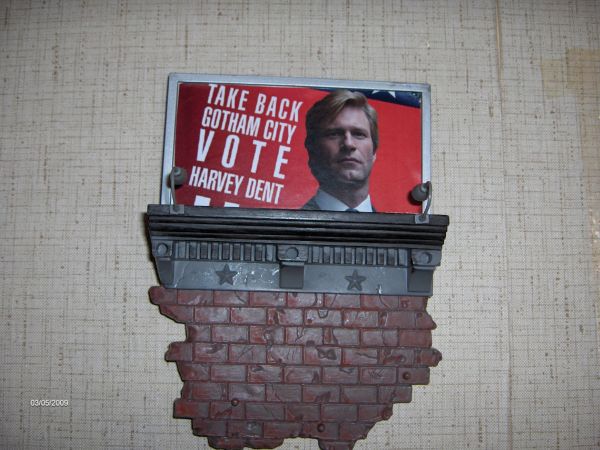 I got this billboard with a Spiderman figure on a ebay lot. It displayed an ad of the Daily Bugle w/ J. Jameson and I had to customize it for my Batman figures.

Back then (when I did this), The Dark Knight movie had a lot of material for its viral marketing promotion campaing (remember? web pages for different Gotham sites, some of which were even hacked by the Joker, some sort of newspaper, a Joker treasure hunt game and, of course, Harvey Dent´s campaing for D.A.). So I took one of those badges/ads of "I belive in Harvey Dent", adapted it to the size of that toy board and glued it there.

Works best, of course, with the smaller 3,75 inch sized figures. A 6 inch Batman figure with cape would completely hide the display (unless the cape can be posed performing some sort of dramatic wind effect).

I hope that you guys like it.