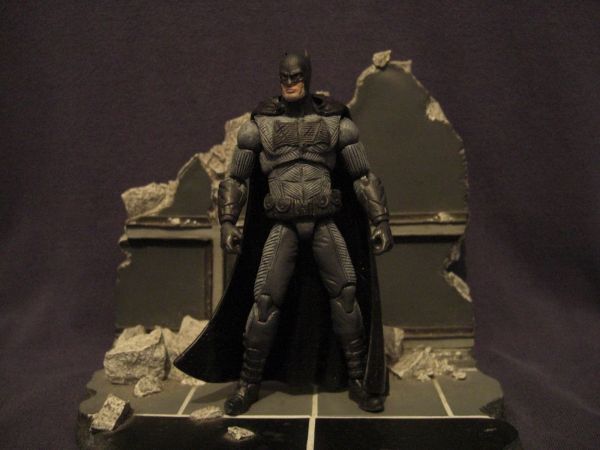 [B]Bats v. Supes: Dawn Of Justice - Batman Figure[/B]

This is my second attempt at a "Batfleck" Batman. I was waiting for an official picture to be released of Ben in the new batsuit and I loved it as soon as I saw it. its very different from my first concept figure that I made ages ago, going on some art that a DC comics artist did of him in a grey version of basically bales suit with a few modifications.

I was pleasantly surprised by this new suit and immediately began work on another custom. You cant really see the legs although from lightened up versions I have seen online, looking like his legs are all that kind of rhino skin texture look, but I have done mine a little different until I get a better pic. I will probably change the legs when we get set pics or what have you.

I also kind of guessed the colourings. Looking at the pic, id say his bat emblem is lighter than the black I've painted it, because compared to his cowl and gloves it comes up light in the monochrome pic they released. Kevin Smith said he is the colouring of the Dark Knight Returns version. Oh well, when we see the real colour I will probably change him up a little.