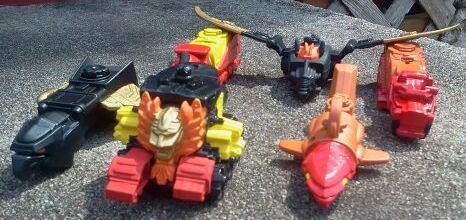 The Predacons! Razorclaw, Divebomb, Headstrong, Tantrum, Rampage, and...uh...another Divebomb. Yeah, that guy is a remote controlled clone. Or something.

Let me say it hurts my feelings that I have to put G1 beside the name. There is only one Predaking, and he sure ain't in TF Prime: Beast Hunters.

Straight Repaint of the McDonald's Megazord with a little putty work on the head. BTW, why does the Snake have a horn (it does make it look more like Headstrong though)? Why does the bear have fangs? And how often is the Sharkzord useful in combat?!?